---
August 2012 - Filled Pate a Choux Swans
It took me quite some time to make the swans. I had already made pate a choux before, with success, so I was not intimidated, but I also knew that the dough takes time and cannot be rushed. So here goes the recipe:
115 g margarine
240 ml water
a pinch of salt
140 g all-purpose (finely ground) flour
4 eggs, room temperature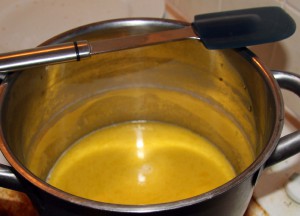 First, I put water, margarine and salt into a pot and heated it until margarine melted. I let the mixture simmer and added flour to it. I stirred it until dough formed, and then for some more time. (My boyfriend's grandmother told me recently that she heats the mixture to steam it properly, so I took her advice.)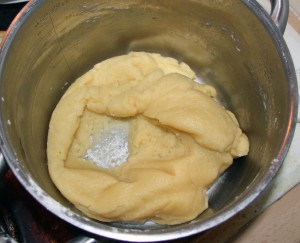 Next, I transferred the dough into my Kenwood mixer and let the mixer work the dough with a paddle attachment to cool it down faster.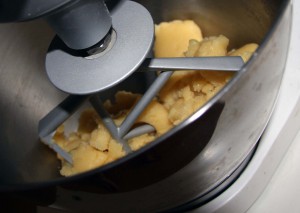 When the dough was room temperature, I started adding eggs, one by one, and mixing them into the dough properly.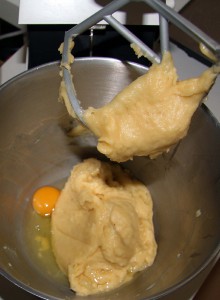 I put the dough in a freezer bag.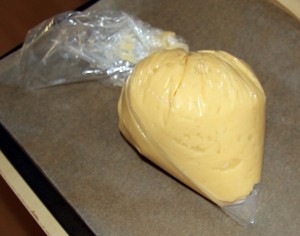 I piped first the necks/heads and then the bodies on a cookie sheet with some baking paper and baked at 190 °C until the necks were done.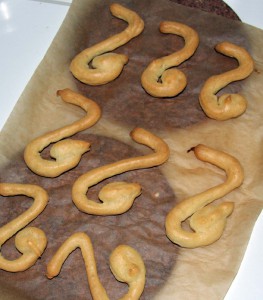 The bodies were too big, however. (Propably due to the fact that the recipe calls for 36 swans and I only made 8...) They did not cook through properly and when I took them out of the oven, the collapsed. Oh well. I tried to put them back in the oven but they did not puff up again.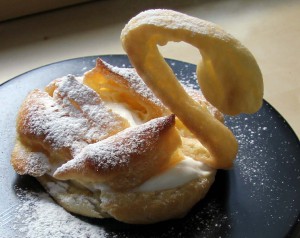 I cut the bodies horizontally, filled the bottom part with chocolate ganache (which was still runny) and sweetened whipped cream (also runny). Since the bodies were not puffed up properly, I had to use much more filling than I would have to moke the bodies look plump.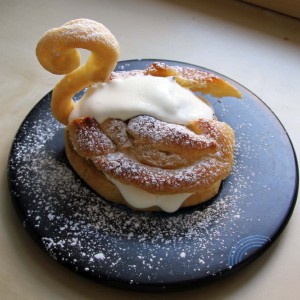 I only made two with this runny filling. They were delicious, but I needed to leave some for my boyfriend. So later that evening, I filled the remaining six swans with already firmed ganache and vanilla jello/blancmange type od cream.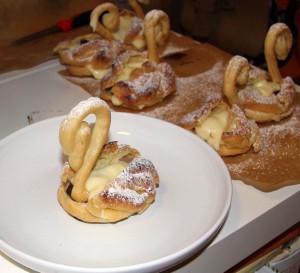 This challenge was fun! And delicious! Thanks, Kat! :-)