---
July 2012 - Crazy for Crackers
24. 7. 2012
For this month's challenge, I decided to try to make graham crackers and cheese crackers.
1. Graham Crackers from Smitten Kitchen
I opted for graham crackers (even though they probably are not really "crackers") because they are impossible to come by here. I slightly adapted a recipe from Deb and used the following ingredients:
375 grams graham-type flour
180 grams sugar
1 teaspoon baking soda
1/2 teaspoon salt
100 grams margarine, cut into small cubes and almost frozen
115 grams golden syrup
5 tablespoons milk
vanilla extract
cinnamon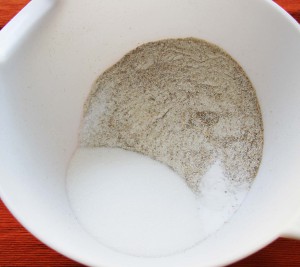 First, I mixed the dry ingredients.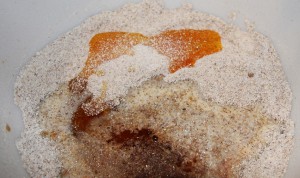 Then, I added the wet ingredients.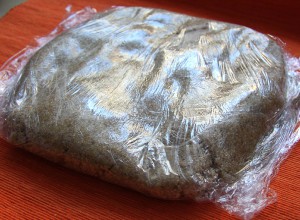 I mixed it all together until it became a dough. I covered the dough with cling film and put it in the fridge for about 4 hours (but 2 hours should be enough, or you could keep it in the fridge overnight).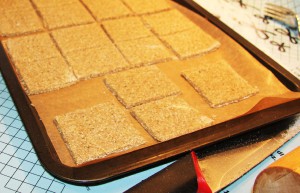 I divided the chilled dough into 2 parts. I rolled one part to about 3 mm thickness, trimmed the edges and created a large rectangle, which I then divided into smaller rectangles and tried to make them look like the commercially-made graham crackers I saw on the interwebs. As you can see, I ended up with some squares instead of rectangles, but I reckoned it wouldn't matter.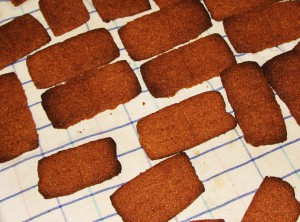 I put it in the oven at about 180 °C, but as you can see, it was probably too hot. Also, with the first batch I forgot to set the oven to upper-and-lower heating, only the upper heating was on. So most of my graham crackers had burnt edges. However, they tasted good. They would be too sweet for rev. Graham, but I quite like them. I'll try to save some to make graham-cracker crust :-)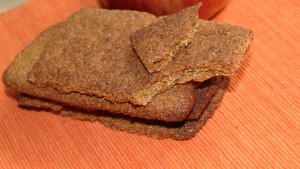 2. Cheese Crackers
(adapted from The American Culinary Institute. (2008). Garde Manger: The Art and Craft of the Cold Kitchen (3rd ed.). "Cheddar and Walnut Icebox Crackers". John Wiley and Sons, Inc. Hoboken, NJ., which was provided for this challenge)
The other type of crackers I tried were icebox crackers. Actually, I preferred this method, because it was less messy. I used the following ingredients:
115 grams margarine, softened
225 grams grated cheese (I used a mixture of edam and gorgonzola-type cheese)
190 grams all-purpose flour
60 grams coarse-ground spelt flour (the original recipe calls for chopped walnuts, I wanted to use ground almonds; however, I found some creepy creatures in my bag of ground almonds, so I tossed it and used spelt flour and cheese spread instead)
2 triangles of cheese spread
1 teaspoon salt
1 tablespoon thyme (I didn't have rosemary on hand)
1 teaspoon garlic granules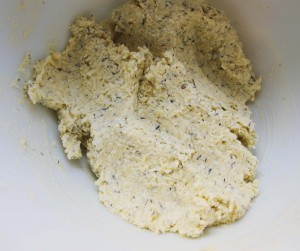 First, I creamed margarine with grated cheese and thyme. Next, I added the other ingredients and made dough.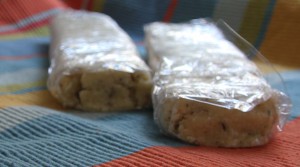 I formed two logs, covered them with cling film and put them in the fridge. I chilled the dough until the next evening.

I cut the dough into 5 mm thick slices and l baked them at 180 °C until they were golden brown. (When all of the crackers were baked, I put them back in the oven to make them crispy, because some were still a little soft when they cooled.)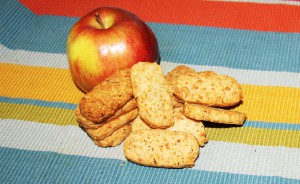 All in all, I preferred the cheese crackers. The cheese was quite prominent, while the thyme was not overwhelming. Yummy!