---
March 2013: Hidden Veggies!
23. 3. 2013
This challenge was interesting. Initially, I wanted to make kidney bean brownies with the provided recipe, but I couldn't find canned beans without salt. Then, by pure coincidence, I got the new issue (April 2013) of the cooking magazine Gurmet in my mailbox, and there was a recipe for Green Pea Muffins. They are really green, I think they would be perfect for St. Patrick's Day or Halloween - they would go perfectly with someone dressed as Hulk.
I started with streusel.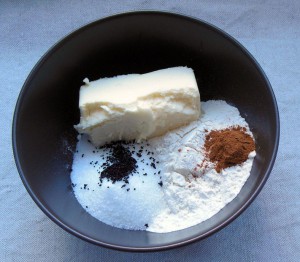 I mixed 1/2 cup of flour, 4 tablespoons of sugar, 1/2 teaspoon of green food colouring (powder), 1/4 teaspoon of cinnamon and 2 tablespoons of butter using my fingers.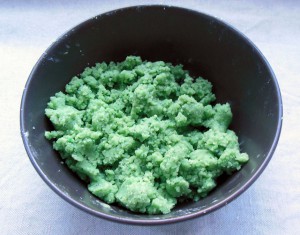 I put the streusel into the fridge.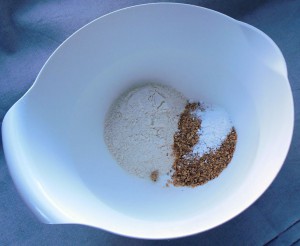 In a bowl, I mixed 1 cup of flour, 1/2 cup of ground almonds and 1/2 tablespoon of baking powder. I set this aside.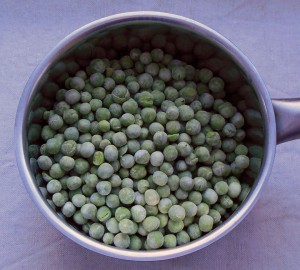 I took 350 grams of frozen peas...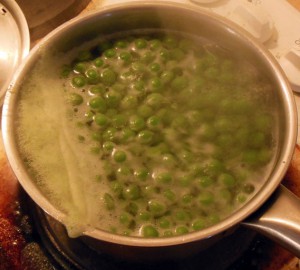 ... cooked them in boiling water for 2 minutes...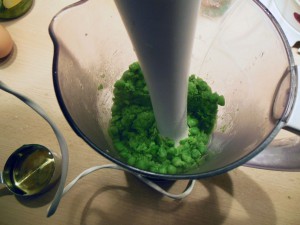 ... then drained and puréed them while they were still hot. I added 1/4 cup of oil.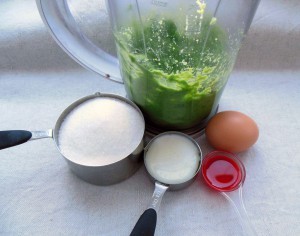 I also added 1/4 cup milk, 1/2 tablespoon of vanilla, 1 cup of sugar and an egg (in this order, I wanted the purée to be as cool as possible before adding the egg) to the puree.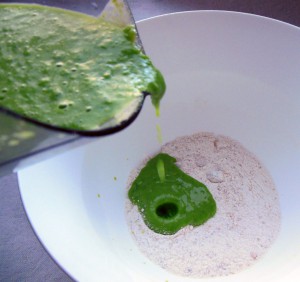 I poured the deliciously looking green purée into the dry ingredients and mixed the batter.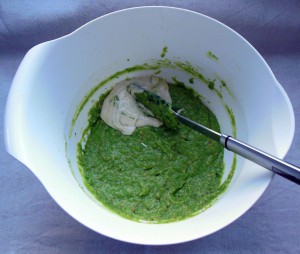 I also added 85 grams of melted white chocolate to the batter.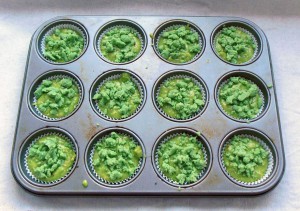 I poured the batter into muffin cups and topped with the green streusel.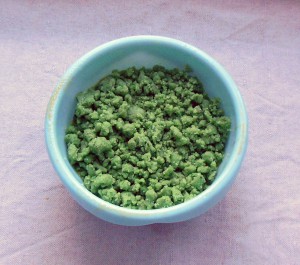 I had some leftover batter (and a lot of leftover streusel), so I made one big muffin (or miniature cake) as well. (That is a LOT of streusel!)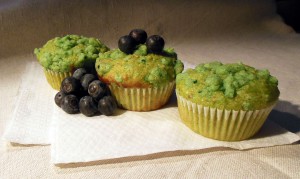 These are the finished muffins. They are really green!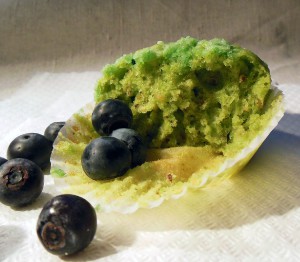 This is how they look on the inside. You can see the ground almonds.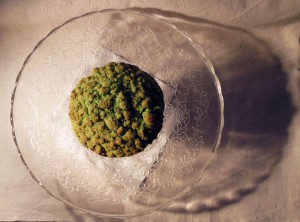 And this is the mini cake with a scary shadow.
The muffins have great structure: they are light, fluffy and spongy, but not dry. The taste of peas has been combined with almonds and vanilla and created a new comforting flavour. My fiancée loves it, even though he was rather doubtful when I told him that I was making pea muffins. And the colour is just divine!