---
September 2012 - Empanada Gallega
I was not very fond of this challenge. It's not that I wouldn't like some sort of a meat pie for dinner - it's just that I prefer sweet challenges. On the other hand, my empanada turned out very nice in the end.
I chose the Corn and Wheat empanada dough, because I thought, hey, it's Spanish, it must have corn in it! The filling was an improvisation, as is usual for me.
This is what I used for the dough:
400 grams instant polenta (that I used instead of corn flour)
100 grams wheat bread flour
250 ml warm water
1 packet (10g) instant yeast
1 teaspoon salt
150 ml oil (I did not feel like waiting for margarine to soften)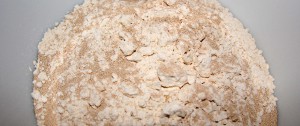 First, I mixed the dry ingredients - polenta, flour, yeast and salt.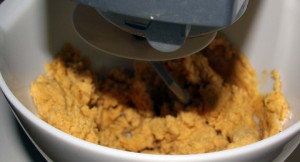 Then, I added the warm water and oil and mixed everything together.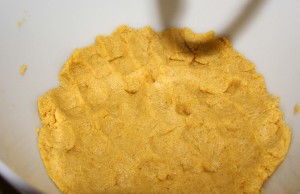 This is how the dough looked. It was very crumbly and actually did not stick together very well. Also, the oil I used did not mix well in the dough, the polenta did not soak it up properly. I let the dough rise for about 10-12 hours (at room temperature), kneading it two or three times in the meantime. It did not rise, but I could feel how it became fluffy to the touch.
When the dough had "risen", I prepared my filling: pork and vegetables. I don't have precise measurements, because I took what I had in the fridge.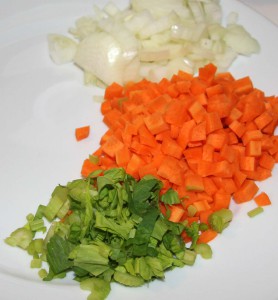 First, I chopped an onion, two small carrots and some leftover celery leaves.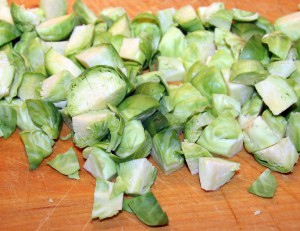 I also chopped some brussels sprouts.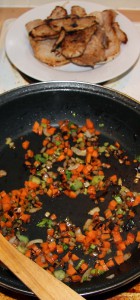 I cut pork (from the leg, very nice and lean meat) into slices, seasoned them with some salt and ground caraway seeds and quickly browned them. In the same pan, I browned the onions, carrots and celery leaves.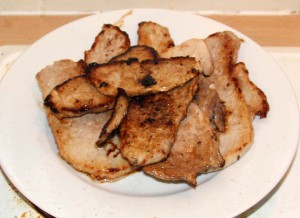 This is the pork :-) I usually don't like pork, but this was quite yummy! Also, I did not use any strong seasonings because my boyfriend did not feel well and asked for something on the delicate side.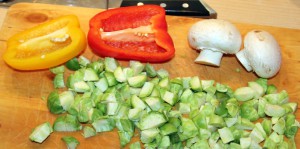 When the onions etc. were browned, I added chopped mushrooms and brussels sprouts to the pan. Then I added chopper bell peppers.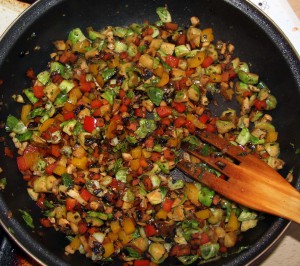 I added a little water, salt, caraway, a dash of garlic granules and some smoked paprika (I seem to like it...). I let the vegetables and meat cool a bit.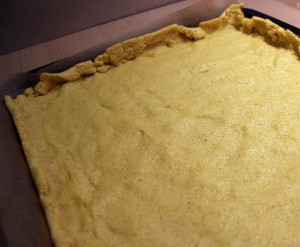 I took half of the prepared dough and pressed it with my fingers into a baking sheet covered with baking paper. The dough was very oily.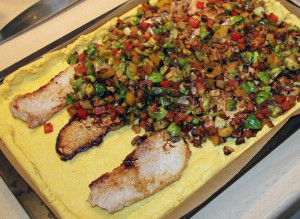 I arranged the meat on the dough and covered it with the vegetables.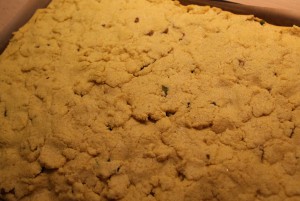 I took the remaining dough and covered the filling with it. I think the same technique is used for fruit cobblers: take a little bit of dough, flatten it between your fingers or palms of your hands and put it one next to the other on top of the filling.

I baked it for about 30 minutes at 200 °C. I don't remember the exact time, but I did use a thermometer to find out whether the inner temperature was safe. You can never be paranoid enough with meat.

Et voilà - empanada gallega! Well, not really. I don't think this has anything Spanish in it. The filling was surprisingly good, despite the fact that I don't like pork and brussels sprouts. The dough, however, was not my favourite. The polenta made it very gritty and it was rather hard to cut. The next day, after a night in the fridge, the dough became slightly softer. I should have tried a different dough. But I don't blame the original recipe - I am sure it was my fault ;-)