---
July 2012 - Cooking "En Papillote"
25. 6. 2012
This was my first Daring Cooks' Challenge and I was not intimidated at all. I also decided not to stick to any particular recipe but to come up with my own. So one day I decided to make dinner "en papillote" - a whole meal in an envelope.
This is what I had on hand:
- a white onion
- a small zucchini
- some button mushrooms
- some slightly wilted arugula
- boneless skinless chicken breasts (about 500 grams)
- millet grains that I was eager to use (I used about 250 grams, but 200 grams would be enough fo two people)
- salt, pepper, seasoning mixes (one for baked chicken, which contains paprika, garlic and salt; one for BBQ with herbs, containing mainly thyme)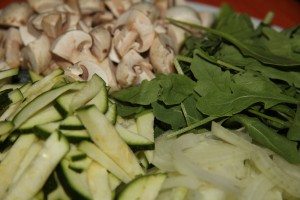 First, I cut the onion into strings, zucchini into... well, pieces, quartered the mushrooms and arranged arugula on the plate.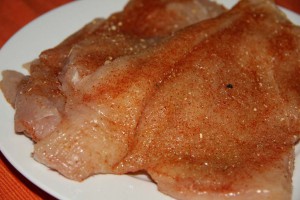 Next, I flattened the chicken breasts to about 1 cm thickness and seasoned them with seasoning mixes.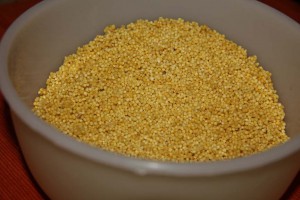 I prepared the millet grains according to the instructions on the package. I rinsed them in hot water, let them dry in a sieve and then roasted them in the oven for a couple of minutes.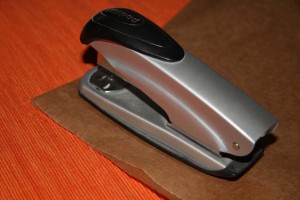 After that, I prepared the parchment paper and stapler. I cut two sheets of parchment paper about twice the size of the chicken breasts and folded each in half.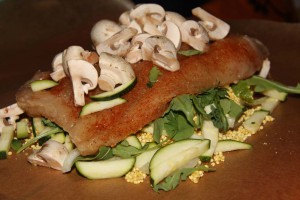 Then, I layered the ingredients on one half of the parchment paper: onion, millet grains seasoned with BBQ seasoning mix, zucchini, arugula, chicken breasts and finally mushrooms.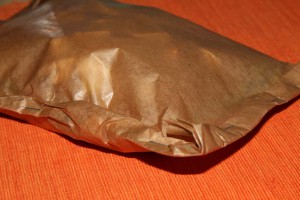 I folded the packets and secured the edges with the stapler so that the moisture would stay inside. I hoped that there would be enough moisture in the zucchini, mushrooms and chicken breasts to cook the millet grains, and put the packages in the oven for 20 minutes at 180 °C. (20 minutes because that was the time provided for millet grains to cooks.) When I opened one of the packages, I found out the following:
- The chicken breasts were cooked perfectly (I used a thermometer to see internal temperature, it was over 79 °C).
- The vegetables were cooked as well.
- The millet grains were mostly dry and crunchy. It seems that there was not enough moisture after all.
So I added some water to both packages - one was already open, but I did not want to open the second one, so I cut off a corner and poured water through the small opening. Then, I put them back in the oven for 20 more minutes.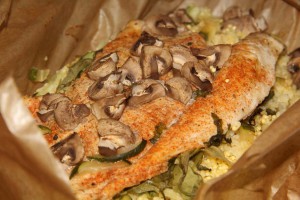 This is what the chicken breast looked like after 40 minutes. The meat was still tender and juicy. The vegetables were not overcooked. The millet grains were mostly cooked and sticky, but we simply "fluffed" them up as we digged into our meals. Yummy!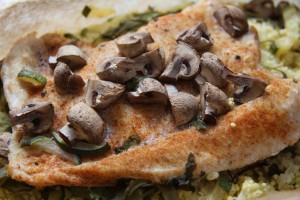 Some notes:
The chicken breasts should be as thin as possible.
Season the ingredients well, you won't be able to add more seasoning during the cooking process.
You can use other vegetables as well, like bell peppers, corn, carrots, peas... Just try to cut them to appropriate sizes - smaller pieces of vegetables that cook longer.
Definitely add some liquids! After all, the worst thing that could happen would be that you would end up with some nice juice.
Komentáře
Přehled komentářů