---
May 2013: En Croute
14. 5. 2013
Usually, I prepare (at least mentally) for the Daring Cooks challenge a lot in advance, even when I end up making the meal in the last minute. This time, I did not feel like participating. However, in one bright moment I bought a roll of puff pastry, so when the day of publishing came, I decided to whip up a quick dinner En Croute for my dear fiancé. I did not feel like cooking meat, so I made Spinach and Ricotta Parcels with puff pastry.
I started as usual: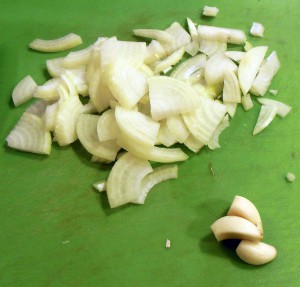 Onion and garlic. My go-to base for most meals. I chopped both roughly.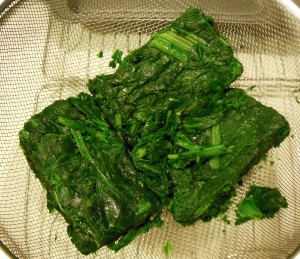 And some frozen spinach that I thawed.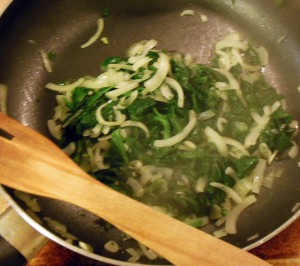 I sautéed the onion and garlic in a pan, added the thawed spinach and cooked for a bit. I also added some salt and pepper. If I had more time, I would have added some cream or butter and cooked it until the liquid had disappeared, but it was getting late so I kept it simple. Also, it would have been better if I let the filling cool down before using it.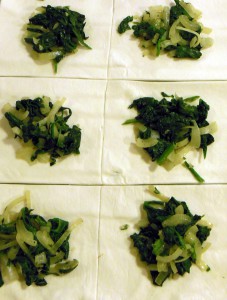 I divided the filling and the puff pastry into 8 parts. I put some filling on each part of the pastry. My filling was still warm, which wasn't best for the pastry, but it wasn't a disaster.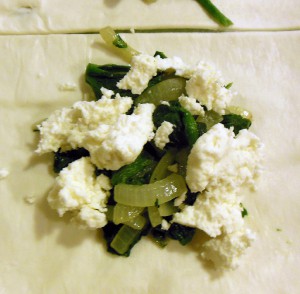 Now came ricotta - MY HOMEMADE ricotta! (See the recipe here.) It was quite firm, so I crumbled it over the top of the spinach filling.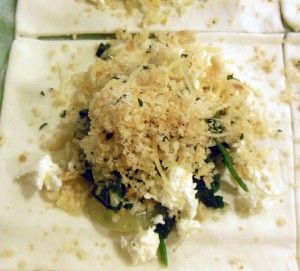 I also had some seasoned breadcrumbs left over from a couple of days before, so I sprinkled them on top of the filling. Spinach contains a lot of water, as well as ricotta, so I thought it would be good to have the breadcrumbs to soak it all in. Also, I needed to use it as soon as possible.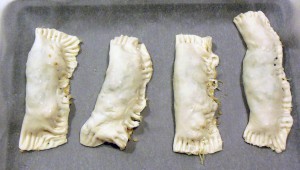 I folded each pastry square in half and pressed a fork all around so that it would not open. It seems that I have used a little too much filling, so it was rather difficult to make the pockets. Never mind, though. I baked them for about 15 minutes at around 220 °C, until the were golden brown. The filling was already cooked, so I just needed to bake the pastry.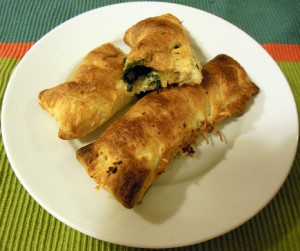 This is the result! The pastry could have been a little lighter, but the filling was delicious. The ricotta did not melt, which was good, because it provided the filling with bits of creaminess, whereas the spinach was "grassy" (but I use this in a good way, I like to know that I am eating leaves!) with a hint of garlic. Next time, I may try to add some kind of more flavourful cheese to get a different taste.
PS: The parcels were all gone in less than fifteen minutes. I hate it when it takes several times longer to prepare a meal that to eat it!