---
November 2012: Brining and Roasting
14. 11. 2012
This challenge was really interesting. I had read a lot about brining turkey in the US for Thanksgiving but had never tried it. I was a little bit afraid, because when I bought pre-brined meat, it was usually awful, yuk! But since I knew I could regulate the saltiness of the brine, I decided to go for it.
I brined and roasted a boneless skinless turkey breast weighing 1 kg. This is what I used for the brine:
2 litres water
1/2 cup salt
1/4 cup sugar
peppercorn
carraway seeds
allspice
cloves
granulated garlic
bay leaves
dried rosemary
dried wild garlic leaves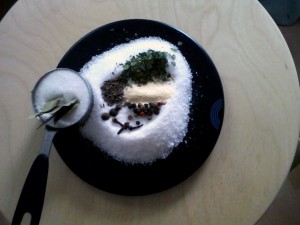 I brought everything to a boil and then let the brine cool to room temperature.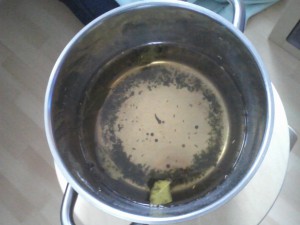 Then, I poured it over the turkey breast.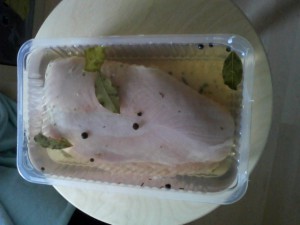 I left the meat in the fridge for 4 and 3/4 hours, then took it out of the brine, dried with paper towels (did you know that paper towels stick to wet meat?) and let dry in the fridge. After a couple of hours, I put the breast in a baking dish with some butter and added some more butter on top of it. I baked it in hot oven until the internal temperature reached 74 °C (about 90 minutes). During the time, I poured the released juices with melted butter over the top several times.
When the meat was ready, I put it in the fridge because I did not feel like eating it immediately. The next day, I cut it into thin cuts and took it to an event, where everybody loved it! The rest of the meat was transformed into a yummy sandwich.
I was quite surprised how delicious the meat was. Very flavourful, just the right amount of saltiness. It was gone before I coult take a photo of the finished product :-)