---
October 2012: Brazilian Feijoada!! (and more…)
I was not particularly looking forward to this challenge. First, I don't like pork (well, mostly... I could stuff my face with bacon all day long!). Second, I felt I'd already had my share of Spanish/Latin American dishes - we cooked paella in September and I just made the Daring Bakers' September challenge, empanada gallega. But I also knew that we were going to my parents' house for the weekend and that I could share the dish with four other people So that's what I did.
Since there was the whole family to be fed, I decided to make the whole meal: Feijoada, Farofa and Vinagrette.
I started the day before by soaking some red beans overnight, then cooking them for about 5 hours in a slow cooker until they were soft. I drained and rinsed them. (I know the recipe said not to do this, but I had to travel with the beans and this was the easies way.)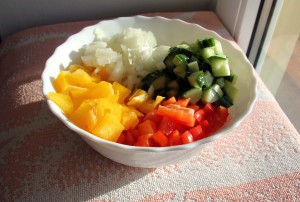 First thing the next morning, I made vinagrette. I chopped an onion, two red bell peppers, one yellow bell pepper and half of a cucumber. I added about 3 tablespoons of vinegar. The recipe called for 120 ml - no way anybody was going to eat something so vinegary here! So I adjusted the amount. I also added some oil and cold water to almost cover the vegetables, chopped parsley and lovage leaves (quite a common herb here, tastes like celery leaves), some salt and pepper. I put it in the fridge and started preparing the rest of the meal.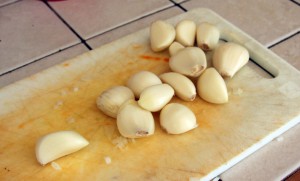 Next, I prepared the onion-garlic base. I chopped two onions as finely as I could, because I did not have a food processor to purrée it. I used garlic press for the garlic. The picture above shows how much garlic I actually used. The recipe called for 4 heads (!). I don't know about the author, but Czech garlic, especially home-grown, is pretty strong. I think 4 heads could seriously damage the insides of your mouth and stomach. So I used about 1 and a half of a head. I mixed the chopped onions and garlic purrée with some salt, put it in a sealed box and popped it in the fridge for the time being.
And now for the feijoada!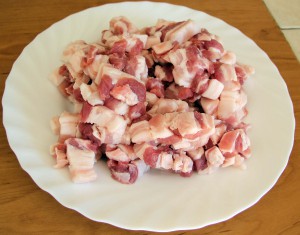 I used pork belly. I cut off the skin and cut the meaty part into small cubes.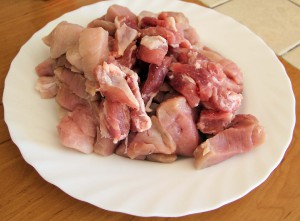 I also used lean pork from the leg and cut it into larger pieces.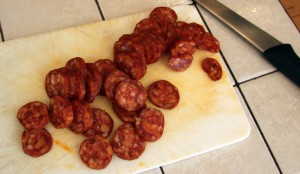 And a Hungarian-style smoke paprika sausage. (I really like this kind of sausages.)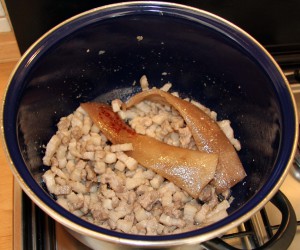 I put the skin from the pork belly in a pot over high heat and added the cubed pork belly. This is actually how I make pork rind and lard. You just have to cook it long enough for the meat to cook through and release as much fat as possible. I did not wait for so long this time.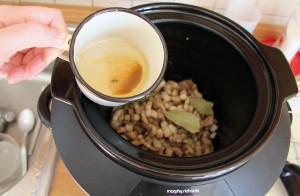 I transferred the pork belly into my slow cooker, along with some bay leaves. In the cup you can see the released lard, I used it for frying the rest of the meats.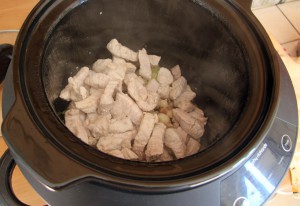 I fried the pork and added it to the slow cooker.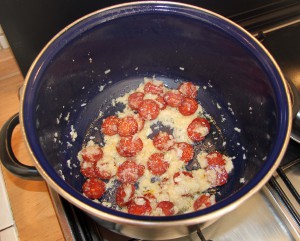 I cooked the sausage with some of the garlic-onion base and added the cooked beans, just to heat them through.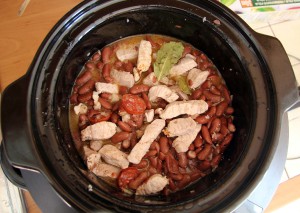 I put everything in the slow cooker, added some hot water, salt and pepper (and my beloved smoked paprika) and let it cook on high for about 2 and a half hours. I can tell you already that that was not enough. The meats were cooked through and everything, but the whole feijoada was lacking those complex intermingled flavours. Oh well, that's what you get for trying to rush things in a slow cooker.
I also made the farofa.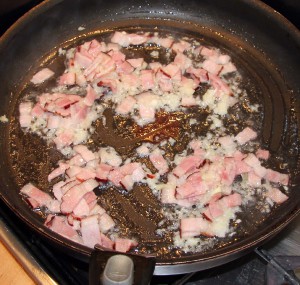 On some of the remaining lard, I fried some garlic-onion base and bacon.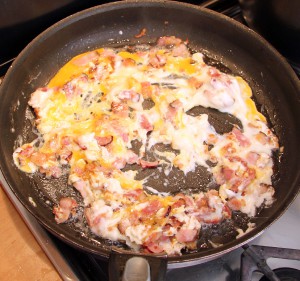 I added three eggs and mixed them quickly, then let them solidify a bit. Then I broke them into smaller pieces with a wooden spoon.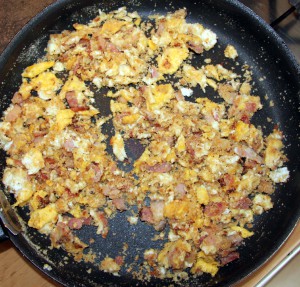 I added the rest of the lard and breadcrumbs and fried it until the farofa was golden. I added some salt and pepper.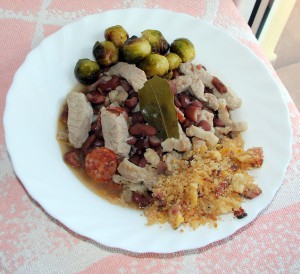 This is the finished dish. The feijoada should have been thicker, but I was in a rush so this is how it was. The farofa was delicious, my mother even asked me for a recipe! I could not find collard greens, so I used brussels sprouts instead, and roasted them with lard and garlic-onion base. The vinagrette was not my favourite - too vinegary.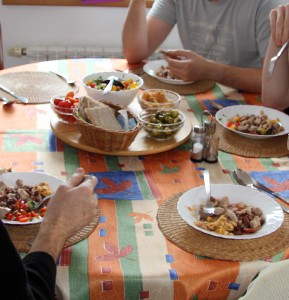 A feast for the whole family! (My parents could not help themselves and had to have bread with the meal. I also added some tomatoes in a separate bowl, because there were people who don't eat them.)