---
September 2012 - Paella
13. 9. 2012
I made the paella one day for dinner because I knew I had some vegetables and I had to get rid of some chicken breasts. This is what I used:
2 onions
2 green peppers
3 chicken breasts
1 cup frozen peas
120 grams spicy smoked sausage
1 cup tomatoes, crushed
2 cups hot water
1 cup short grain rice
1/2 cup whole pitted black olives
1 jelly bouillon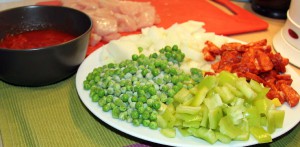 First, I chopped everything.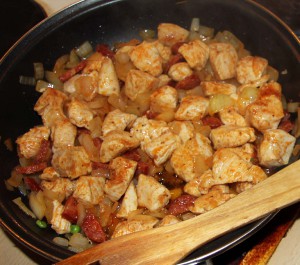 Next, I sautéed the onions. When they turned translucent, I added the sausage and when that lost some fat, I added the chicken breasts. I cooked everything until the breasts were almost done (food safety, mon!). Them I added rice and cooked it until transparent (like when you do risotto).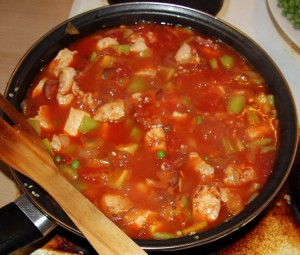 I added the crushed tomatoes and water and green peppers. At this moment, I started adding spices: jelly bouillon, salt, pepper, smoked paprika and saffron. (Mum brought me some saffron from Hungary but I think it's weird. It looks like there is some hay mixed in it...) I added the frozen peas just to heat them through and let the juices thicken. Finally, I added some pitted black olives.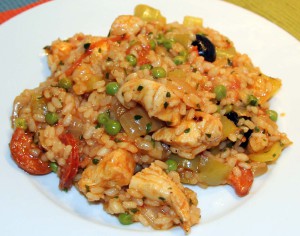 I sprinkled some dried parsley on top of the paella. It was really tasty - it had this je ne sais quoi that made you go for seconds :-) (Must be the smoked paprika, it always gets me.)